Regional multistakeholder dialogue in the Eastern Mediterranean Region - Report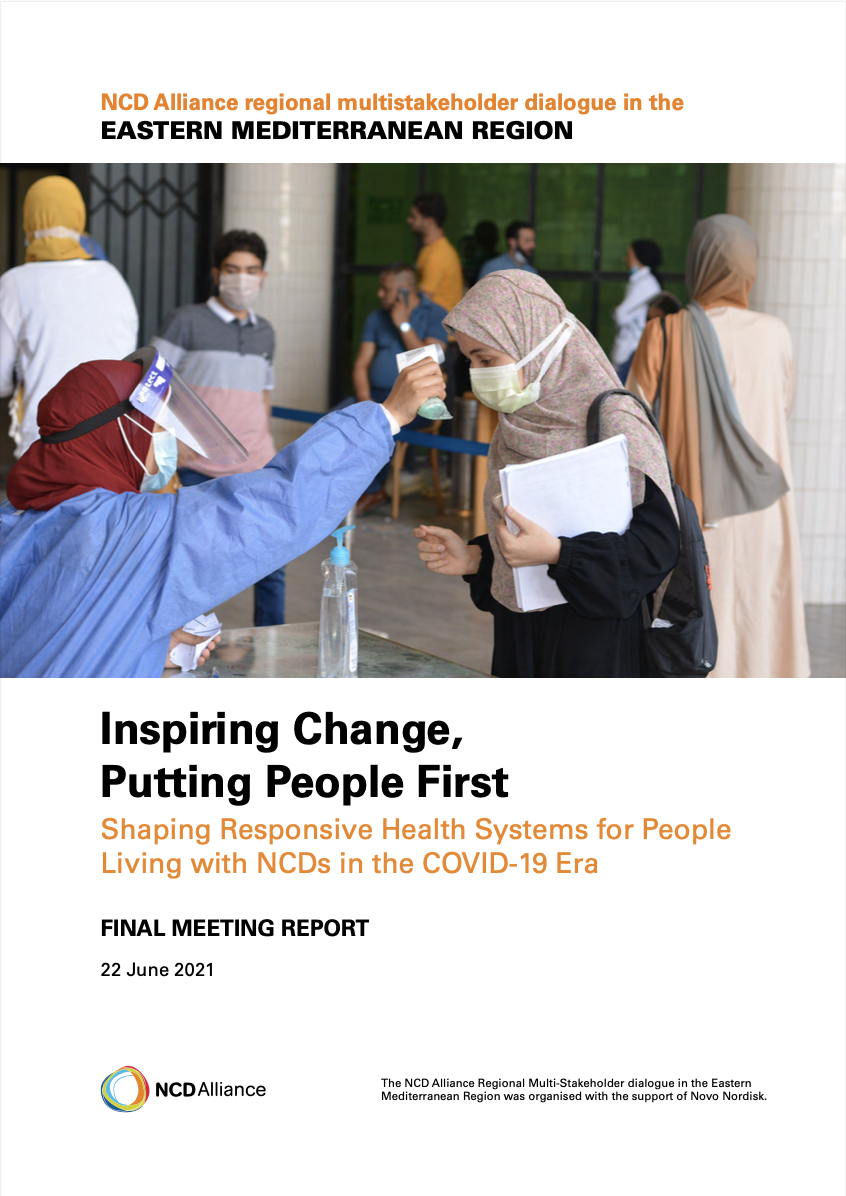 Regional multistakeholder dialogue in the Eastern Mediterranean Region - Report
PublishedDec 2021
AuthorNCD Alliance
Description
The NCD Alliance regional multi-stakeholder dialogue in the Eastern Mediterranean region was part of a series of regional dialogues held by the NCD Alliance. The dialogues were held in Latin America, Africa, South-East Asia and the Western Pacific, and the Eastern Mediterranean region along with the Our Views Our Voices regional dialogues with civil society, which contributed to the Global Charter on Meaningful Involvement of People Living with NCDs.
The Global Charter seeks to provide a shared understanding of meaningful involvement of people living with NCDs, as well as its key principles, barriers and strategies for implementation; contribute to a growing knowledge base on meaningful involvement and its impact; increase commitment to embed meaningful involvement in organisational practices in all sectors of society; and provide an accountability process with periodic reporting required from endorsing organisations on actions undertaken, challenges faced and lessons learned.
The Eastern Mediterranean regional multi-stakeholder dialogue, held on 22 June, gathered 77 participants from 20 countries and panellists that included Dr Maha El Rabbat, Professor of Public Health at Cairo University and World Health Organization Director-General's Special Envoy on COVID-19 Preparedness and Response; Dr Zied Mhirsi, Director at Global Health Strategies and Co-founder of the Tunisian Center for Public Health; Dr Asmus Hammerich, Director of the Department of Noncommunicable Diseases and Mental Health at the World Health Organization Eastern Mediterranean Regional Office (EMRO); Dr Maihan Abdullah, Consultant at the Deutsche Gesellschaft für Internationale Zusammenarbeit (GIZ); Dr Ibtihal Fadhil, Chairperson of the Eastern Mediterranean NCD Alliance (EM-NCDA); Dr Claudia Truppa, Health Coordinator of the International Committee of the Red Cross (ICRC); Ms Soraya Ramoul, Senior Director of Global Access to Care at Novo Nordisk; Mr Khurram Hashmi, Technical Advisor for the International Union Against Tuberculosis and Lung Disease (The Union); Pr Mohamed Sobhy, President of the Cardiovascular Research, Education, Prevention Foundation (CVREP); and Mr Bryson Childress, Director of Global Programs at the American College of Cardiology (ACC). Additionally, the voices of people with lived experience were present thanks to the participation of Mr Omar Abu Reesh and Mr Mohamed Shankhair.
Subscribe to our newsletter
Sign up to receive updates about Our Views, Our Voices
Check out our new ourviewsourvoices.org website and find out how people living with #NCDs are driving change in their communities and globally #NCDvoices