Meaningfully Involving People Living with NCDs
What is being done and why it matters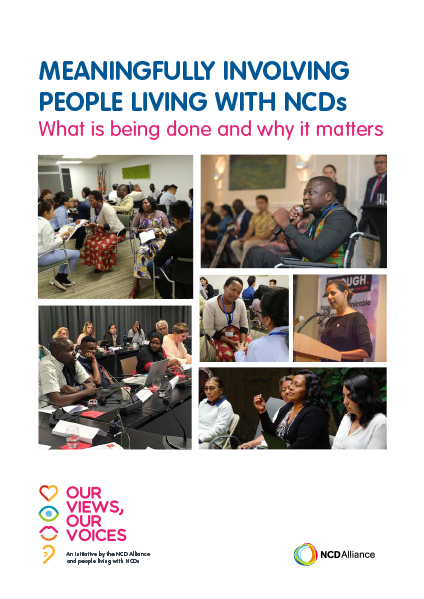 Meaningfully Involving People Living with NCDs
PublishedOct 2018
AuthorNCD Alliance
Description
The meaningful involvement of people living with noncommunicable diseases is a critical element of an effective NCD response. From policymaking to awareness raising, clinical trials, academic research, advocacy, organisational governance, and more, people living with NCDs can contribute to many different facets of the NCD response and act as role models breaking barriers to inclusion.
Promoting meaningful involvement requires recognition of its importance and the creation of enabling environments, including dedicated spaces for involvement.
This review lays out some definitions of key concepts and explores what meaningful involvement of people living with NCDs currently looks like within Civil Society, Government, and Health Care Delivery.
Subscribe to our newsletter
Sign up to receive updates about Our Views, Our Voices
Check out our new ourviewsourvoices.org website and find out how people living with #NCDs are driving change in their communities and globally #NCDvoices